Proliant is a Leader on G2 Winter Grid Report for Core HR [Including Mid-Market and Small Business]
by Proliant, on Dec 15, 2021 4:17:41 PM
We pride ourselves on combining our cutting-edge human resource information systems with excellent service. Our customer reviews on G2 show how our efforts make HR and payroll easier for our clients.
Proliant has received 4.4 out of 5 stars from our customers on G2, and we consistently rank in the top 5 of the Top 20 Core HR Software based on the G2 Satisfaction Score—Check out how we stack up against the competition on the Winter 2021 G2 Grid Report for Core HR.
94% of users rated Proliant 4 or 5 stars.
85% of users believe Proliant is headed in the right direction with our Core HR systems.
89% of Core HR users said they would likely recommend Proliant.
Proliant Ranked as a Leader on G2 Grid Report for Core HR Software
This winter, we are ranked as leaders on the Grid® for Core HR Software, Small-Business Grid® for Core HR Software, and Mid-Market Grid® for Core HR Software.
To qualify for inclusion in the Core HR category, a product must:
Store employee information and documents in a central database
Allow users to customize employee profiles with unique data fields
Enable simple exporting and importing of employee data for reporting purposes
Integrate with third-party HR applications from which additional employee information can be pulled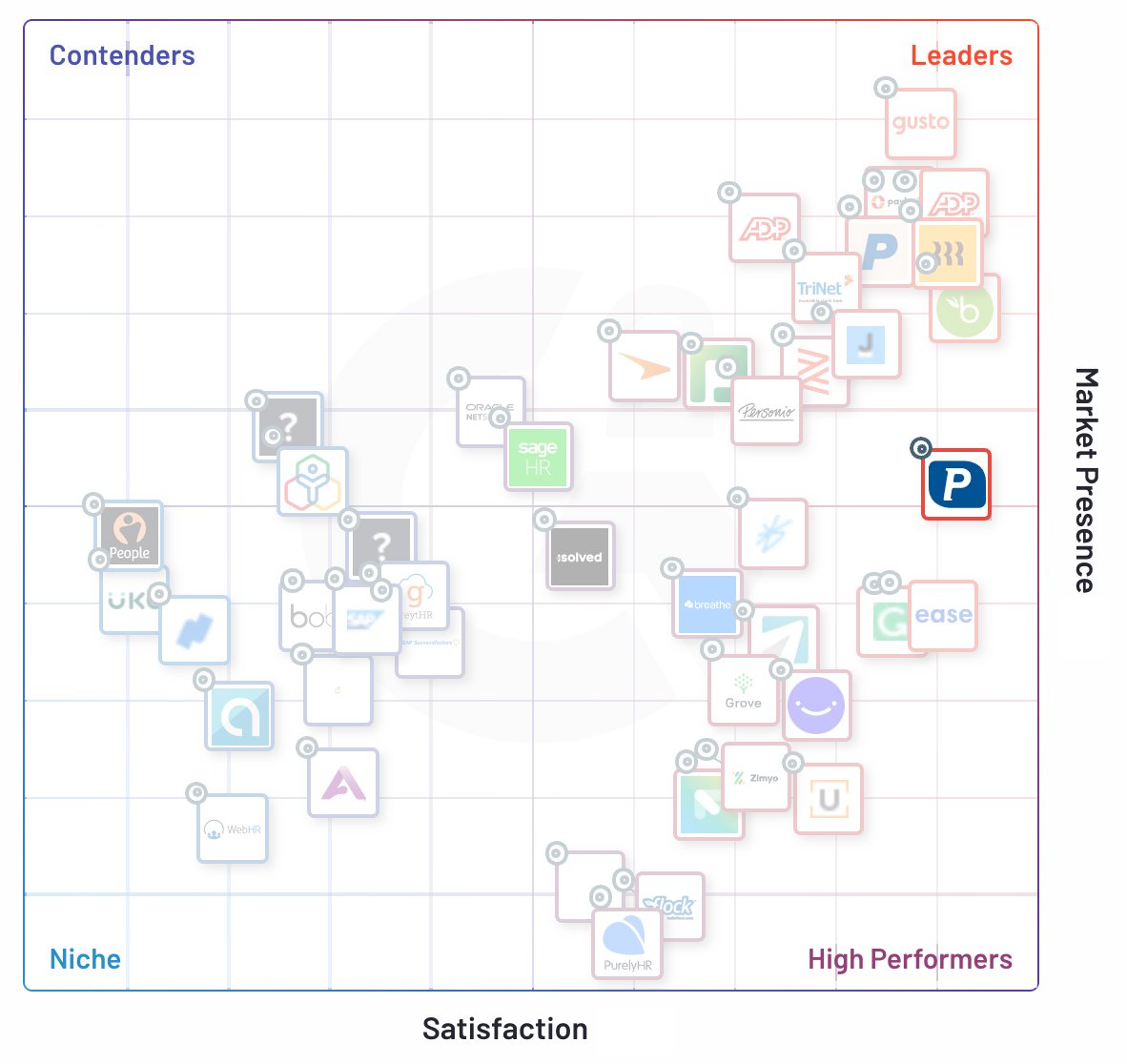 Being ranked as a leader means Proliant is rated highly by G2 users and has substantial Market Presence scores.
Here are some other highlights from the G2 Winter Grid Reports for Core HR.
93% customer satisfaction score
89% of customers are likely to recommend Proliant Core HR
92 Small business satisfaction score for Core HR
88 Mid-Market satisfaction score for Core HR
8.6/10 on the Core HR Implementation Index for ease of setup, implementation time, user adoption, and other factors
8.63/10 on the Core HR Results Index for return on investment, meeting requirements, user adoption, and likelihood to recommend
9.13/10 on the Core HR Relationship Index for ease of doing business with us, quality of support, and likelihood to recommend
8.92/10 on the Core HR Usability Index for ease of use, administration, and adoption
What These Results Mean to Us
At Proliant, we take the feedback we receive from our customers very seriously. The reviews on G2 Crowd greatly influence how we evolve each year because we want to provide our clients with the best possible HR technology systems. This G2 Core HR Grid Report shows that there is a lot we are doing right, and there is always room for improvement as we work toward greatness.
Check out the verified testimonials from Proliant users on G2 Crowd.