July 2022 Release Notes: New Features and Fixes to ReadyPay Online
by Proliant, on Aug 16, 2022 9:49:21 AM
New Features and Fixes | July 2022
It's quite evident that companies are facing a major talent shortage in industries everywhere. According to recent research, talent shortages continue to climb, growing from 40% in 2016 to 75% in 2022.
In order to combat this talent shortage, employers are tasked with finding new ways to up their recruiting and retention game. As part of this strategy, many employers are now focusing on meeting the expectations of today's employees as much has changed. Amongst those expectations is a demand for a delightful HR experience from recruitment to retirement.
At Proliant, our ReadyTime Online solution can help employers deliver the HR experience new and current employees expect. As we continue to provide our clients with the best possible solution, let's take a look at some of the recent new features and fixes we implemented into our ReadyTime Online Solution.
ReadyTime Enhancements
We have implemented the following functionality enhancements:
Accrual Policies: ReadyTime's nightly process was enhanced to support an automatic accrual policy transfer.
Auto Policy Transfers:

Assigning and removing an accrual policy assignment may now be accomplished using Employee Groups.

Solutions
The following issues have been resolved:
Accrual Policy Effective Date: The effective date of an employee's accrual policy is now assigned to the employee's hire date.
Balance and Accrual History Pages:

Column headers were updated from Balance to Avail Hrs to match the column headers in ReadyPay Online.
Documentation Enhancements
ReadyTime Accrual Policy Transfer for Existing Employees
In ReadyTime, the auto-assignment of accrual policies for new hires runs as part of a nightly process. For the nightly process to automatically assign accrual policies, ensure that the following prerequisites are completed:
Set up Employee Groups on the Company Setup | Resources | Employee Grouping page.

Set up the Auto Assignment order on the Company Setup | PTO | Auto Assignment page.
Expected Results
After completing the accrual policy transfer, the following changes should be visible on the PTO | Accrual History page
The new VAC-TP policy's accrued column should have 6 hours because the new policy's Effective Date is 7/1/2022.

The new VAC-TP policy's granted column should be zero.

The new VAC-TP policy's adjustment column should be 23.08 which was transferred over from the VAC-M policy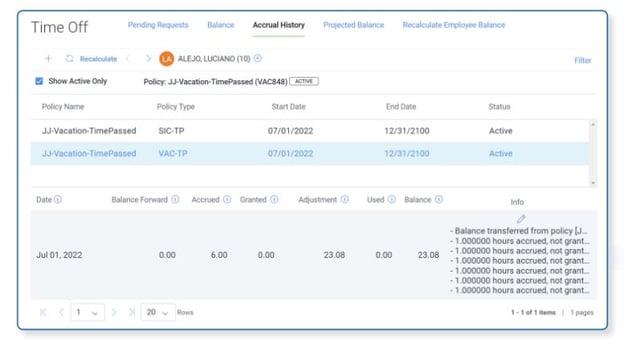 On the PTO | Balance page, you can view the accrual summary information for this employee. Note that the new policy does offer a SIC-TP accrual, so this employee now has two accrual types.

To view the full release report, please click here.