August 2022 Release Notes: New Features and Fixes to ReadyPay Online
by Proliant, on Sep 8, 2022 2:45:45 PM
New Features and Fixes | August 2022
The benefits of an on-demand pay solution usually involve helping employees, specifically those who live paycheck to paycheck. But what's typically not discussed is the benefits that businesses receive.
While it does help with employee turnover and engagement, it also aids an HR department, admins, and operators in their overall process. For example, admins and operators can spend hours manually processing payroll. With an effective on-demand pay solution, companies can cut daily hours by moving from an entirely manual effort to an automated end-to-end solution.
Proliant strives to provide the best on-demand solution possible to its clients. This involves constant monitoring and adjustments that are catered to their exact needs.
With that said, here are some new features and fixes to ReadyPay Online to help our clients.
ReadyTime Enhancements
Accrual History
Columns were added to the employee Accrual History page to include Accrued, Granted, Used, and hours of Adjustment.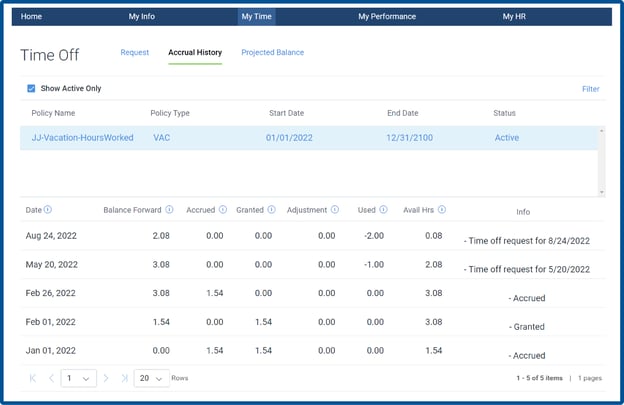 Accrual Policies
The Company Setup> PTO > Accrual Policies page now allows an administrator to configure time off requests for supervisors and employees separately in the Miscellaneous section for each accrual policy.
Time Off Requests
ReadyTime has been enhanced to support an advanced notice requirement for PTO requests.
You can configure the time-off request advanced notice settings for your organization on the Company Setup> PTO > Accrual Policies page.

For an employee, the My Time> Request page now displays a warning if a time off request does not meet the minimum number of days of advanced notice.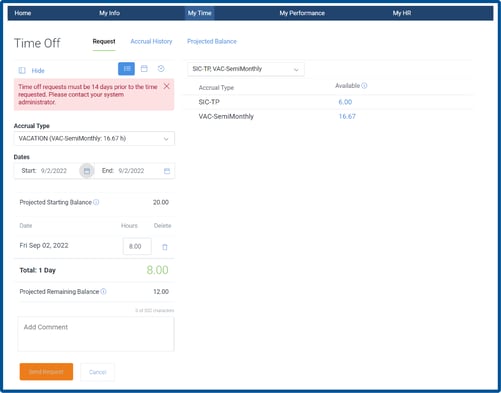 Solutions
The following issues have been resolved.
Accrual Policies
The employee count for each accrual policy was not always correct. This issue has been resolved.
Accrual Rounding Discrepancies and Consistency
The Employee > Projected Balance and ESS> Projected Balance pages did not display rounded accrual hours accurately. These issues have been resolved.
Click here to view the full release notes report.