March 2022 Release Notes: New Features and Fixes to ReadyPay Online
by Proliant, on Apr 12, 2022 12:33:10 PM
New Features and Fixes | March 2022
It's no secret that HR professionals are making onboarding and employee turnover a focal point heading into 2022 . According to a recent study, 47% of HR leaders cited employee retention and turnover as their No. 1 challenge. In that same report, only 12% of employees felt their organization does a great job when it comes to onboarding new employees.
With that in mind, we have released some new features and fixes to ReadyPay Online in order to help our clients in the coming year.
Dashboard Improvements
A dashboard is important because it provides a visual representation of business performance in real time. HR professionals rely on their dashboard to get a holistic view of their overall operation, allowing them to see what's working and what's not.
We have implemented new improvements to the dashboard, including uniform widget sizing and added the ability to sync cleared checks information to RPO. We have also updated the turnover widget to display trends, including increases and decreases in employee turnover as well as turnover statistics based on a specific timeframe.

• Red arrow pointing up indicates an increase in turnover. Green arrow pointing down indicates a decrease in turnover.
Settings
Various improvements and new features have been added to settings which will aid clients in better management of employee tax compliance. The option to adjust multiple employees at once has been added as well as other features, including auto populated tax codes, automatic tax search and the addition of a symmetry tax compliance audi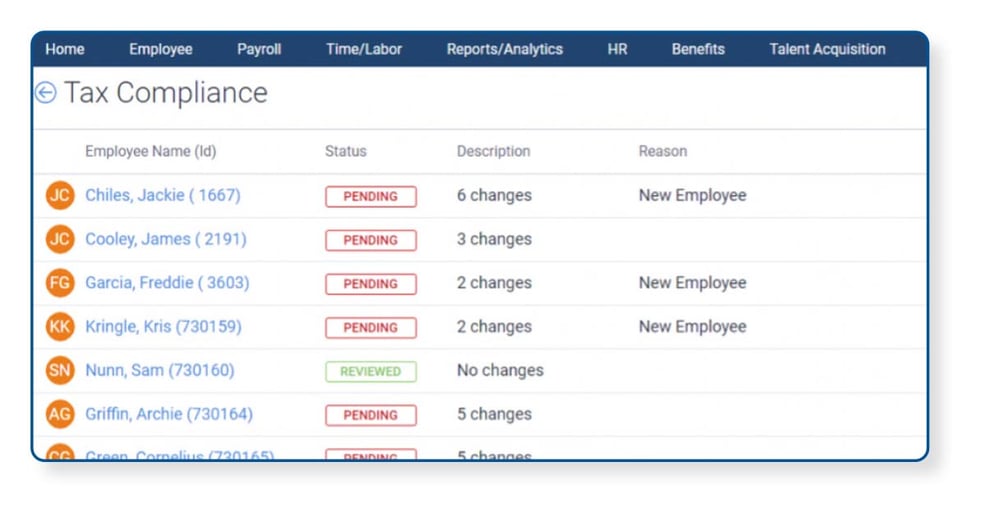 • New feature allows clients to adjust both single and multiple employees' taxes at once.
Payroll
Updates to Paypoll include the ability to verify names and store IDs from imported files as well as the addition of blank job title code fields within the imported file.
Mobile
The mobile version of ReadyPay continues to be updated to provide clients with a better experience and easier navigation. Updates include a new option in Security Configuration to allow employers to block Time & Labor screens within the mobile app without blocking the same screen in RPO.
E-Hire (Onboarding)
As we mentioned, effective onboarding will be a top priority for HR professionals this year. In order to provide a seamless, user-friendly experience for employers and employees, we've made several updates to our onboarding process.
Amongst these updates is a revision to onboarding functionality. Previously, in order to implement a new custom document to add to onboarding, Proliant was required to receive the document and populate the necessary information. New onboarding functionality now allows for the client to complete these steps through a drag and drop system, saving them time and speeding up the overall onboarding process.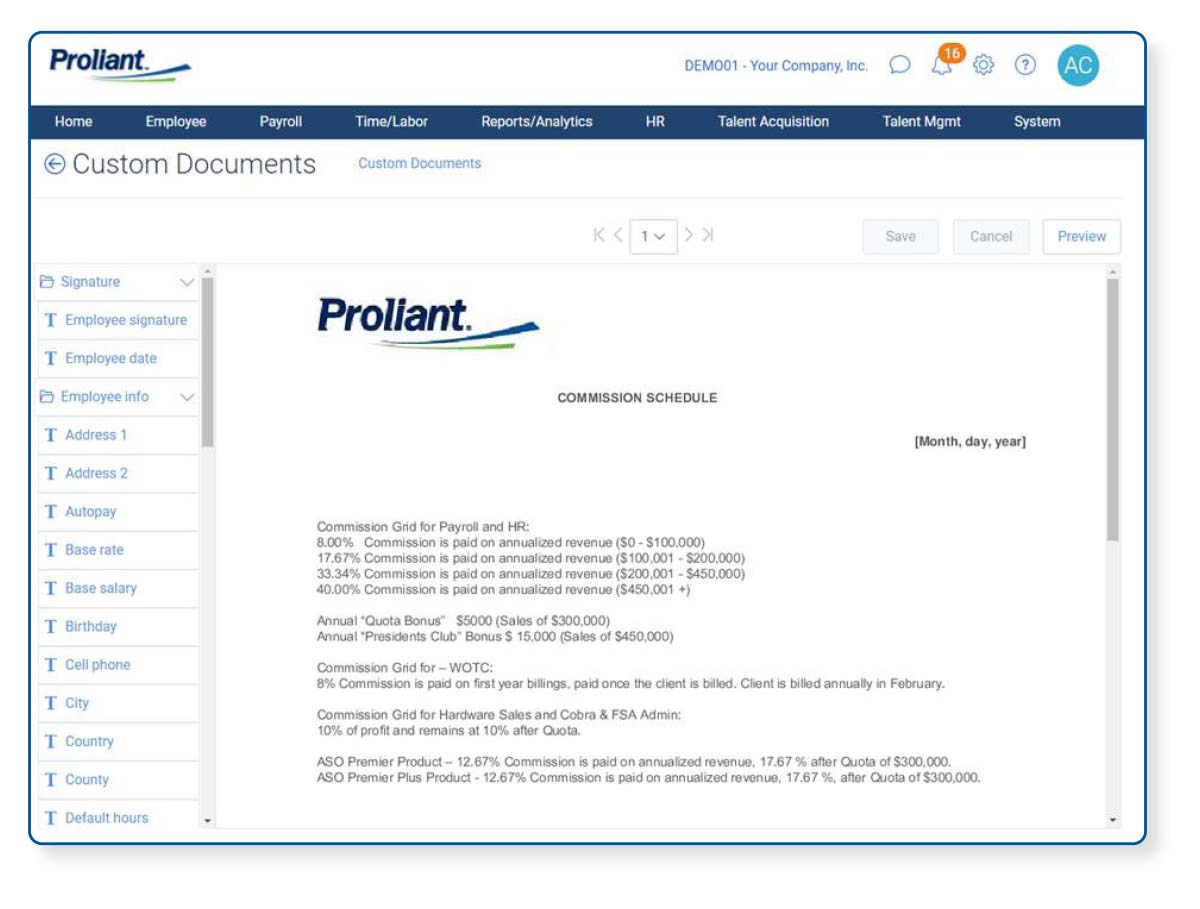 • New drag and drop system allows clients to implement custom documents to onboarding without Proliant assistance.
Businesses require frictionless tools that empower their workforce and provide unquestionable accuracy and effective functionality. Proliant continuously strives to meet these demands to ensure our clients are provided the most up-to-date solutions available.