May 2022 Release Notes: New Features and Fixes to ReadyPay Online
by Proliant, on Jun 10, 2022 1:53:16 PM
New Features and Fixes | May 2022
The demands companies receive from employees continues to change. Amongst those is early access to wages, and it's no surprise that companies are looking for ways to cater to these demands. According to research, 78% of Americans live paycheck to paycheck.
Our ReadyPay Today solution is perfect for offering employees early access to earned wages. From IRS compliance to early access to wages for hourly and salaried employees, ReadyPay Today ensures your employees are satisfied, resulting in increased recruitment and retention while eliminating absenteeism.
As we continue to offer this effective solution, we also continue to make the necessary improvements. Here are some new features and fixes we have recently made to ReadyPay Today.
Easier Report Access
A high number of employees can be difficult to keep track. With that in mind, we have added an export button to the Change Log page so clients are able to export results in Excel.
• Export button added to allow clients full reports in Excel.
In addition, the following have been added for easier functionality:
New maps will be immediately available in the Maps drop-down.
My Service Team page will now display Benefits Administration and contact information under the "Service Contacts" section
Approval Groups has been updated to use a searchable page drop-down for improved performance.
Admins can now cancel approvals for API calls from ReadyTime and ATS.
Password minimum length is being increased to 8 characters.
Another important update is the addition of a OTP (One Time Password) Login Authentication option. When enabled, this will require ESS users logging in to download an Authenticator app to generate codes that will be validated during the login process. Users can use a QR code to obtain the required app.
• QR code added for easy access to required app.
Employee Self-Service
For easier navigation, an icon next to the User Initials/Profile circle will now indicate which view is being used for Admins and Supervisors.
• Icons added to indicate Admin or Supervisor for easier navigation.
In addition, the following have been added for easier functionality:
W-2 Instructions have been updated to 2022.
Position has been added to Approval Group Filters under Approval Groups
Enhancements have been made to Approval Flows and Approval History page.
Payroll
Advanced Tab has been added to the calendar in order to change check date. Errors messages have been added and a PayPoll enhancement now allows importing email addresses as part of the QSR file.
E-Hire (Onboarding)
The ability to locate a matching employee record has been added in order to reduce the need for usernames ending in "1" to ensure standard formatting.
A toggle to "Show Active Only" and an Active column has been added this page for reference.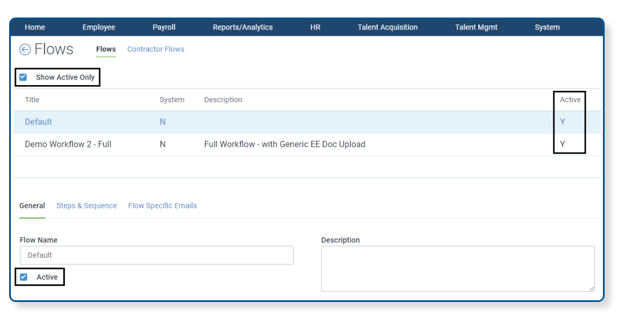 • Show Active Only" toggle has been added to assist in finding employee records.
Performance Manager
Amongst new changes include:
Send Reminders button has been renamed "Bulk Actions" to better match its functionality of allowing multi-selection and action for distributing reviews
Coaching now allows regular employees to see all employees, but only with system security rules applied.
System logic has been updated to distribute reviews where the delivery date is less than the scheduled start date
Mobile
New changes include:
Form W-4 and the SC W-4 has been updated to 2022.
Employee Directory screen has been updated:

Default fields of Employee ID, Last Name, First Name, and Position can now be deselected, but new logic will require that at least one of the first three fields (ID, Last, First) must be selected.

Mobile app now has the ability to block the Time & Labor link to the Proliant App in situations where employees/clients should be using the AOD ESS App for their Time & Labor needs.
To view the full release report, please click here.