Proliant is a Leader in 3 Categories on the G2 Summer Grid Report
by Proliant, on Jun 23, 2022 3:12:40 PM
Proliant continues to improve our cutting-edge HR technology and the service we provide to our customers. The G2 Summer Grid Reports show just how much we have succeeded in making payroll and HR easier for our clients.
Proliant maintains 4.5 out of 5 stars from our customers on G2, and we currently rank 14th out of 576 products for Core HR. This summer, we appear on a total of 52 reports related to early wage access, time & attendance, onboarding, and workforce management. Those reports are categorized into 6 different types, including Grid Report, Implementation Index, Relationship Index, Results Index, Usability Index, and Momentum Grid Report, and include rankings for small-, mid-, and enterprise-sized companies.
Proliant is ranked as a leader on the Grid® Reports for the following categories:
Being ranked as a leader means Proliant is rated highly by G2 users for high quality of support, ease of use, and easy administration. Let's take a closer look at what makes Proliant a leader in these categories.
Leader in Earned Wage Access Software
Proliant is a leader on the G2 Grid® Report for Earned Wage Access Software, ranking 2nd overall.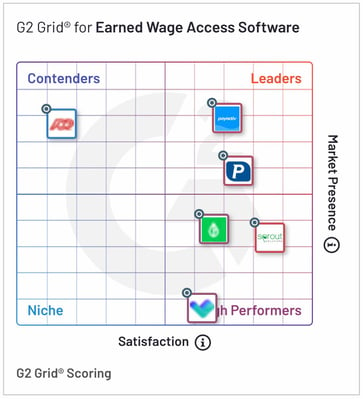 Earned wage access, also known as on-demand pay, allows employees to access their earned wages before payday. Earned wage access (EWA) works by pairing the financial technology of the EWA pay solution with HR technology. The technology incorporates an app where employees can gain access to their earned wages whenever they need it. Earned wages are typically deposited via pay cards or directly into an employee's bank account.
Our product qualified for inclusion in the Earned Wage Access category because it met these requirements:
Give employees on-demand access to earned wages
Provide a portal or app for employees to manage earned wages
Integrate with payroll systems
Generate reports or dashboards that enable employers to track earned wage access usage
Leader in Time & Attendance
Proliant is a leader on the G2 Grid® Report for Time & Attendance Software, ranking 12th overall, 8th for small business, and 11th for mid-market.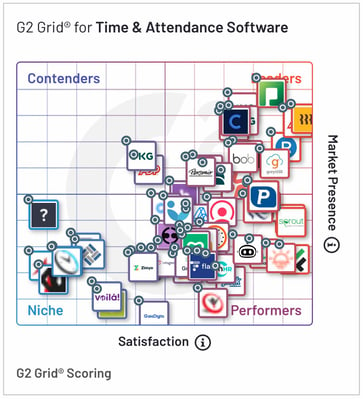 Time and attendance software simplifies time tracking and reporting for companies and HR departments. Proliant's software helps users understand local and federal labor requirements while providing employees real-time access to their schedules, time cards, and time-off balances. Our product makes it easy for companies and HR departments to take control of their time and labor, saving them time and money while ensuring compliance.
Our product qualified for inclusion in the Time & Labor category because it met these requirements:
Centralize all time & attendance data
Include tools to process employee time & attendance, including hours worked, overtime, paid time off, sick days, and holidays
Analyze key labor force metrics
Improve accuracy and eliminate employee attendance-related payroll errors
Leader in Core HR
Proliant is a leader on the G2 Grid® Report for Core HR, ranking 14th overall, 10th for small business, and 12th for mid-market.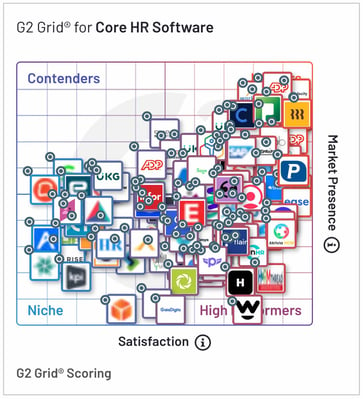 Human resources software, or human capital management software (HCM), stores employee information within a central system of record. Proliant's human capital management technology allows users to manage essential employee data, including:
Proliant also offers self-service options that allow employees to update their benefits or personal information.
Proliant's HCM is part of an integrated HR and payroll management suite of solutions that integrates with many third-party applications to ensure ease of use and implementation.
Our product qualified for inclusion in the Core HR category because it met these requirements:
Store employee information and documents in a central database
Allow users to customize employee profiles with unique data fields
Enable simple exporting and importing of employee data for reporting purposes
Integrate with third-party HR applications from which additional employee information can be pulled
Proliant Leads Due to Unprecedented Service and Support
We rank as leaders on the G2 grid report because our products are easy to use and implement and because we offer fantastic support.
At Proliant, our service is on a whole other level. We provide personalized service and build partnerships instead of focusing on transactional relationships. We are consistently praised for our high-quality support because our service model includes:
Dedicated single point of contact
U.S.-based support
Experts with knowledge about your specific industry
High-touch customer service
Secondary backup support line
We pride ourselves on our fantastic service, a big part of what makes us a leader in the G2 Grid Reports.
To learn more about what our satisfied customers have to say and to view more of our rankings, check out our profile on G2.